0424, Orgiva. Pretty Cortijo close to Town
Featured
Orgiva, 18400
Ref # : 0424
For Sale
€ 220,000
Two storey cortijo close to Town.
Cortijo Mainavas is situated along a paved road following Rio Chico, about a 10-minute walk from the town centre of Orgiva. Despite its proximity to town, the residence provides a quiet and secluded country existence. It enjoys moderate temperatures in both winter and summer, along with breezes coming down the valley from the higher reaches of the Sierra Nevada. It is within an hour's drive from several popular destinations: the Costa Tropical (Motril, Salobrena, Almuñécar), the metropolitan area of the provincial capitol Granada, and the picturesque mountain villages of the upper Alpujarras.
The property totaling 2257 m2 is comprised of a lower field/orchard, a house with a living area of 86 m2, and a terraced upper orchard. The orchards include 48 olive trees (oil production varieties), 21 citrus (orange, mandarin, lemon and grapefruit), and a variety of other fruit trees (apricot, plum, mulberry, almond, pomegranate, avocado, grapes). The ornamentals growing around the property include jasmine, roses, lilies, bay, myrtle etc. Cortijo Mainavas is a member of the local community of irrigators, and agricultural irrigation is provided through the local acequia system, one branch which feeds the lower field, and one the upper terraces. All trees have been maintained consistently in a good state, and each year produce a significant amount of olives for processing into oil at a nearby ecological mill. There are vegetable garden areas within the lower field. The neighbor adjoining the north side of the property grows organic fruit and vegetables.
The southwest-facing house is full of sunlight year-round. While having a rustic charm, it still provides modern comforts and amenities. The ground level comprises a 55 m2 covered outdoor terrace which overlooks a 3x5 meter pool/alberca below at garden level, a 21 m2 kitchen and dining area, and an adjacent 17 m2 studio/salon with an adjoining bathroom and shower. Upstairs are two rooms and an adjoining large bathroom with shower: the first is the main bedroom (20 m2) which opens onto a small outdoor terrace, and an adjoining salon/ bedroom/workroom (13.5 m2) with views over the surrounding countryside.
For heating/cooling, there is a wood-burning stove (Hergom) in the dining area, a cooling/ heating air conditioning split unit in the studio, and a second split unit in the upstairs main bedroom. The kitchen is equipped with a built-in electric convection oven (Siemens), a 3- burner gas cook top (Bosch), and an automatic dishwasher (LG). All the kitchen cabinets and countertops are custom built. Hot water is supplied through an external on-demand butane gas heater. Other amenities beside the pool include an outdoor covered porch opening onto the terraced orchard, a small storeroom adjacent to the pool, and a metal lockable tool shed (2x2 m) near the front steps. Electrical power and potable water are supplied by the utility company and the city of Orgiva.
Please note the property is being regularised with an AFO.
Services
Electrical power and potable water are provided through the utility company and the city of Orgiva. There is also rights to acequia water for irrigation.
Location
You'll find banks, cash machines, post office, various supermarkets, numerous bars & restaurants, 3 health shops, a police station, all schools and 24 h medical services.
Orgiva has developed into a small centre of alternative culture, combining old Spanish tradition with the ecological lifestyle of a young foreign community.
Driving 35 minutes along a beautiful mountain road takes you to Salobreña, the nearest beach of the Costa Tropical.
Granada is a 50 minutes' drive away. Another 30 minutes take you to the ski resort of Sierra Nevada. Skiing is possible between December and May. The highest lifts take you up to 3.400 metres and from there one enjoys unforgettable views of Granada and right across the Med to Africa.
The Moors lived until the end of the 16th century in the Alpujarras. We not only still use their water channels and water deposits, but their original arabic names too. A proposal has recently been submitted to declare the Alpujarras a UNESCO world heritage site.
Hiking is pure pleasure here. It takes a 20 minute car drive to reach the borders of the National Park of Sierra Nevada. You can watch eagles circle in the blue skies, see ibexes fearlessly cross the cliffs above you and feel part of the magnificence of untouched nature all around.
Features
Situation
Close To Village
Close To All Amenities
Tranquil Location
Mountain Views
South West Facing
Furniture
Electricity
Land & Gardens
Citrus Fruit Trees
Fruit Trees
Vegetable Garden
Interior
Fully Fitted Kitchen
Wood Burning Stove(s)
Air Conditioning
Water
Condition
Ready To Move Into
Fully Renovated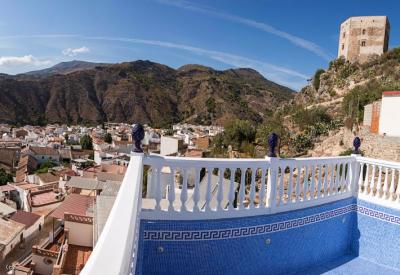 Hi! Click below to chat to Paul Mcjury on WhatsApp!
Chat with Paul Mcjury on WhatsApp
Close and go back to page